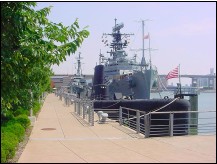 USS Little Rock
Exhibits at the museum include: Marine Corps Memorabilia World War I to Present; Ex-POW Memorabilia; Contributions of African-Americans to Our Country's Military Heritage; Women in the Military; Polish Armed Forces; Destroyer Escort Sailors; Vietnam Veterans; Models of Military Aircraft World War II to Present; and Western New York Medal of Honor Recipients.
The Buffalo and Erie County Naval & Military Park is a museum on the shore of Lake Erie in Buffalo, New York. It is home to several decommissioned US Naval vessels that you will be able to tour. These are the Cleveland-class cruiser USS Little Rock, the Fletcher-class destroyer USS The Sullivans, and the submarine USS Croaker.
The construction of the Buffalo Naval and Servicemen's Park (later named the Buffalo and Erie County Naval & Military Park) started in 1977. The park was opened to the public on July 4, 1979 and has gone through a few major changes in recent years. In 2003 the ships were moved slightly to the foot of Pearl and Main streets. The Naval Park includes a new museum, abuts a historic Commercial Slip, and is part of Buffalo's Waterfront, known as Canalside.
Along with the ships, a variety of smaller vehicles, vessels, and aircraft are also on display at the park. These include a tiny X-Ron 1 Rotorcycle one-man helicopter used by the US Marine Corps in the late fifties and early sixties, an Army M41 Walker Bulldog tank used in the Korean War, a Marine M-84 Armored personnel carrier, a Huey flown in Vietnam, an Air Force F-101 Voodoo flown by the Air National Guard's 136th FIS, Niagara Falls ARS, a Trumpy-class Fast Patrol Craft, used in Vietnam, a Navy FJ Fury (FJ-4) jet (equivalent to the Air Force's F-86 Sabre), and a P-39 Airacobra manufactured at Bell Aircraft in Buffalo which saw service in World War II.
See http://www.buffalonavalpark.org for more details.